Mike Hann
Singer/Songwriter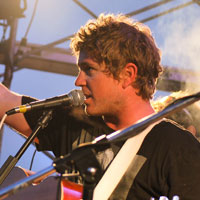 Mike Hann (Victoria, B.C., Canada) is the lead singer/songwriter for the popular Vancouver Island base band QUOIA. Known for high-energy live shows and creating uplifting grooves, Hann has been steadily making a name for himself over the past 10 years as a talented performer, songwriter and all round entertainer. As the son of an award winning artist, it is no surprise that Mike is finding his own notoriety in the music world.
Although Mike has been gaining experience in the world of music from a very young age it is his life experience that plays the biggest part in his songwriting. When not performing Mike works as an Antarctic Expedition Guide, Whale Watching Skipper and is the co-owner of Big Fish Lodge, which is located at the foot of the world famous West Coast Trail in Port Renfrew, BC.
Mike is also the Co-Founder and Festival Director for the popular Tall Tree Music Festival which takes place each June on the beautiful shores of Vancouver Island.
Sessions presenting:
Saturday, October 3
Beverage and Snack Break
10:45am – 11:00am
Saturday, October 3
Banner Project Time
1:00pm – 1:30pm
Saturday, October 3
Beverage and Snack Break
3:00pm – 3:15pm
Sunday, October 4
Beverage and Snack Break
10:30am – 11:00am
Sunday, October 4
Beverage and Snack Break
3:00pm – 3:15pm
Clear announcements