All the World's a Stage
Bringing Shakespeare's plays to life with great design and photography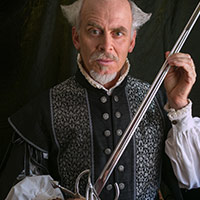 Russell Brown@MAX is a hands-on course designed for art directors, designers, illustrators, and photographers to learn advanced imaging techniques to use with Adobe Photoshop, Adobe Lightroom and, Adobe Illustrator, as well as some of Adobe's latest mobile tools. Led by Adobe Principal Creative Director and world-renowned thespian Russell Brown, in collaboration with his distinguished troop of actors, this course gives you the opportunity to work with some of the best designers and instructors in the industry.
Discover the potential for using all the Creative Cloud tools as a powerful source of creativity for designers.
This LIVE performance-themed event will show you how to capture, edit, and composite compelling theatre banner art using Lightroom, Photoshop, and Illustrator. We will also have a video component to the event this year. Students will capture live performances of a select group of Shakespearean plays and of talented musicians. Then, using the latest desktop and mobile applications we will edit the results into compelling graphics and videos. When we're done, each student will have mastered some great new skills in advanced image editing and discovered some unique ways to use Adobe's latest mobile tools. Taught using Apple iMac computers, Russell Brown@MAX features a limited class size and an intimate, inspiring environment for in-depth instruction.
We will print our Shakespearean theatre banners on fabric using a Canon large-format printer and present our video projects on large monitors for all the MAX attendees to view.
Featured products:
Adobe Photoshop
Adobe Illustrator
Adobe Lightroom Mobile
Adobe Premiere Clip
and more
Projects include:
Large format fabric banners for each student
MAX gallery exhibit displaying all class posters and videos
Live Shakespeare and music performances
Professional photography studio – BYO smartphone, iPad, or camera for taking photos
Instructors:
Russell Brown
Chris Converse
Chris Orwig
Scott Valentine
James White
Joel Grimes
Julieanne Kost
Lori Defurio
Robert Lamarche
Clear announcements