Joel Grimes
Photographer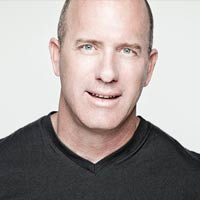 In 1984 Joel graduated from the University of Arizona with a BFA in Photography and soon established a commercial studio working out of Denver Colorado. For over 30 years Joel has worked for many of the top advertising agencies and corporations across the globe Over the years his assignments have taken him to every state across the USA and to over fifty countries around the globe.
In 1990 Joel produced his first coffee table book, 'Navajo, Portrait of a Nation' which received a number of photographic and design awards and produce an eighteen-month solo exhibit at the Smithsonian American History museum.
Driven by the creative process, Joel views himself as an illusionist, creating portraits larger than life. "There is no face on the planet that is the same, and my vision as an artist is to capture that individual uniqueness through the creative photographic process." Joel currently has a photo studio located in Phoenix, Arizona where he resides with his wife Amy.
Sessions presenting:
Saturday, October 3
Adobe Photography
9:00am – 11:00am
Saturday, October 3
Photoshop­—The HDR Background
11:00am – 12:00pm
Saturday, October 3
Adobe Photoshop
1:30pm – 2:30pm
Clear announcements